This is the general discussion page for the wiki! New founders should leave a nice welcome message and encourage new visitors and editors to leave a note to get the conversation started.
---
Hey MLPB! Me Noah. draw a circle draw a backword L green coler in coler circle black cut it out. Dose that sound like Mr.L'S emblem? If you wanna make a great video, tape it to Luigi's cap, get a green sock,tie around Luigi's neck like a bandana draw Mr. L eyes and tape. Make a video about Luigi Turning into  Mr. L!!!!!!!!!!!!!! MY IDEA! GIVE ME CREDIT IN DESCRIPTION! Remember when I told u where I lived? And a crossover! Ill make a channel soon!     I have a
Mario
Luigi
Peach
Daisy
Yoshi 
Koopa
Toad
Wario
Waluigi
Dk
and a bunch more plus future plushes!
When they come out with A san ie  Rosalina on August 26, get it on Amazon.com!
I wont be in the state I live in through August 13  18. if your still thinkin bout a crossover. U sound like people I would like to be friends with!
P.S. How old r u guys? I'm gonna be 10 August 14th!
UR welcome 4 a bunch a pages I made.
Thanks, I'm your biggest fan! Ill try to make my channel July 30th or August 1st!!!!!
The Mr. L idea seems like a good idea, and maybe we could do something like that, but the only problem is that we haven't played Super Paper Mario, which was Mr. L's only appearance.
You have a nice set of starter plushes. With those plushes, you could probably make good videos! I would also recommend Bowser and Sonic.
Yes, we've heard of the San-ei Rosalina plush. It looks awesome, and we will get it after it comes out! We're thinking of making her Peach's competition.
About the idea of us coming over, sorry to break it to you, but it's not going to happen. The travel costs would be very pricey, and we couldn't start traveling throught the states just to film a video. Plus, we're busy filming other videos, such as Wario's Addiction 2!
We really don't want to reveal our ages on the internet, as it's kind of unsafe.
Thanks for making those pages on the Wiki, it's really helpful to us! :D
Hey it's Noah, theese are all of the Super Mario Plushes I have;
Mario
Luigi
Peach
Daisy
Koopa
Toad
Yoshi
DK
Wario
Waluigi
Bowser
Yellow Toad
Blue Toad
Toad (Toadbob)
Fire Mario
Fire Luigi
Blue Yoshi
Red Yoshi
Goomba
Hey. Noah again. I got a Bowser right after you recomended it. I hope I can start my channel soon before August 13th. I thought you should get Baby Mario Luigi Peach together. Make Peach,Daisy, and Donkey Kong a main character. Make Rosalina be Peach's mother. Daisy Peach's cousin? Daisy in more videos!!!! I think you should make a video about future plushes youll get soon. Use your Metal Mario and that little kid from a game I forgot and never played in Super Smash Bros. Plush. He was in Q and A #2. Speaking of smashers, Ill make ( This is a sneak peak for one of my series.) a series called Super Smash Plush. I think Ill either make a channel called supermarioplushbros or SuperMarioPlushTV. My 2nd channel will be superluigiplushbros, SuperMarioPlushTV2, or supermarioplushbros2. Get a Dixxie Kong plush and the rest of the Koopalings. I recently made many more pages under A Wiki Contributer, because I don't have a password. Ill suscribe to MLPB AND MLPB2 after I get 1 suscriber. Sorry I coudn't vote for MLPB AWARDS. I watched and enjoyed both awards results ceramonies. Also make a Mario and Sonic at the Plush Games, orelse I will. Remember when you thought getting a Amy Rose plush was useless? Use her for that! Have Mario, Luigi, Waluigi and Wario VS. Sonic,Shadow,Tails and Amy. Put various characters in the crowd, like: albert  toad yoshi daisy baby bros. peach hank baby peach blue pink yellow yoshi diddy kong donkey kong rosalina bowser bowser jr.  koopa koopa paratroopa goomba koopalings. All the ideas I gave you guys, put in descriptioin: a wiki contributer gave this idea. Thanks!!!!!
hey its Noah! GET A NABBIT PLUSH! SAW IT A FEW DAYS AGO!!!!!!!!!!!!!!!
hey its Noah! just wanna say great Wario's Addiction 2 drawing! and ask you : did you use the picture of the  hole from Waluigi's Journey to the Center of the Earth  from :    FRED:The Movie? you also used in Halloween special? you guys rock!
hey noah! when i make youtube channel send a picture for the icon with a mario peach daisy plush picture pleese.! by the way nice nabbiti just saw wario's addiction 2!
hey noah! also for my second youtube channel make wario waluigi luigiplush picture formy icon! thanks!
Hey its Noah! I will try to get some more plushes like:
Bowser Jr.
Diddy Kong
Toadette
Rosalina
Nabbit
AND MORE!
HEY,NOAH AGAIN! I WANNA TYPE ONE MORE LIST OF MARIO PLUSHES I HAVE...........................
MARIO
LUIGI
PEACH
DAISY
DONKEY KONG
WARIO
WALUIGI
BOWSER
KOOPA
TOAD
YOSHI
GOOMBA
YELLOW TOAD
TOAD ( I CALL HIM TOADBOB )
BLUE TOAD
RED YOSHI
BLUE YOSHI
FIRE MARIO
FIRE LUIGI
I will use plush characters from many series of video games, shows, movies, and books. My friends will help too:
Mickey Mouse
Minnie Mouse
Barbie
Pacman
Pokemon
Angry Birds
Bad Piggies
Wario
Donkey Kong
Yoshi
Disney
Power Rangers Samurai
Nickolodeon
Luigi
Diddy Kong
Winnie the Pooh
Kirby
Sonic
Real People
The Legend  of Zelda
Power Rangers Super Megaforce
Scooby Doo
Dispicable Me
Elmo's World
Seasme Street
Abby's Flying Fairy School 
sailor moon
THATS IT I THINK. MAYBY EVEN MORE, I DONT KNOW. Please make a shout out video when I make my channel asking everyone to watch my videos.  I was thinking about making a Hunger Games video. if we can team up to make one it wouid be totaly epic! i could make a video called This is for MLPB crossover video coming soon! or same thing, but you make a video for me. one of us can makea video with some scenes for the other. then the other can record it and add it in with the footage that they recorded and wa la, oo uh um or how ever rich french people say, anyway, we can make a video. we have to figure out what video to make though. and wait until i make my channel. my first video is Welcome to (whatever i decide the channel will be called)!. ill give you guys more facts about my upcoming channel, like series that i'm going to make and stuff. I made my welcome video on my dad's phone, but he forgot some adult password stuff to put it on YouTube. I made it on July 31st, the day you started in 2011!
hey its noah it may seem like I talk a lot but im realy quiet I seen all of your videos I will get Rosalina when you said my plushes were starters you were wrong I started collecting them in 2011. nice q and a 3 vid.
hey its noah. wathed all of your videos make a reuploaded video of 5 ways to get kidnapped and the mario kart dilima please make that new mario and luigi series after i make an account because i was going to make a mario and luigi plush series so make it after i do so its not to simmilar. thanks watched mlpb2's 2 newvids. nerdy joke alert!
5 Ways to Get Kidnapped and Mario Kart Dilemma will not be reuploaded to MLPB, but we are thinking about remaking them with better voice acting. camera quality, and effects. Possibly we may upload the originals on MLPB2 as Archive videos once the remakes are created. We still have yet to come up with a catchy name for the Mario Bros. series that hasn't been used before. If you have any ideas for names, please tell us. Actually, when I said "starters", I meant that they were good plushes to start your channel with, and didn't mean that you hadn't been collecting them for a while.
Oh, and here's a response to some of your earlier questions:
Peach, Daisy, and DK aren't part of the main cast, because their personalities aren't very malleable, and are very one-dimensional. We already have three dumb main characters (Wario, Bowser, Sonic), and Donkey Kong's voice and personality is incredibly similar to Bowser's aside from the villainy. We may use Daisy in some more videos, though. Peach is the only one of those three who I could see becoming a main character, as we made her very prissy and selfish, a role that no other MLPB characters could fill.
Rosalina (sorry) will not be Peach's mother in MLPB. Instead we'll be having Peach be very jealous of Rosalina, as she is her main competition for Mario.
We already threw out our Metal Mario plush's tinfoil, and we've decided that we're not going to use a Metal Mario in our videos. Lucas from Mother 3 will be used in Super Smash Bros. Plush, but not in any other videos.
Thanks, I worked very hard on that drawing (took me 1-2 hours, much of it spent coloring). The picture of the hole from Waluigi's Journey to the Center of the Earth is actually not from Fred: The Movie (we hated that movie, and could only stand watching 10 minutes of it before turning it off)
We did get a Nabbit plush on July 18, and then used it in Wario's Addiction 2 as a slushie dealer.
Sorry, but we do not make icons anymore, because it's just taking away from our video-making time. I hope you understand.
I don't know about the Plush Games idea, as we really are not interested in getting an Amy Rose plush. I think three Sonic characters is enough. Plus, we don't have much knowledge of the Olympic Games. 
Hey its Noah. I am definitely getting a Rosalina and Diddy Kong plush this month, August or next month, September. Today is the 25 and I am pumped to make my channel soon! It is going to be called SUPERMARIOPLUSHBROS. MAIN CHARACTERS ARE: MARIO LUIGI PEACH DAISY DK WARIO WALUIGI ROSALINA SUPPORTING CHARACTERS ARE: KOOPA TOAD BOWSER DIDDY YOSHI GOOMBA YELLOW TOAD MINOR,SUPPORTING,VERY MINOR, CHARACTERS: BLUE TOAD TOADBOB BLUE YOSHI RED YOSHI FIRE MARIO FIRE LUIGI I will make series of videos like: SHORT VIDEOS MARIO POWER RANGERS WARIO AND WALUIGI'S WACKY HECTIC ADVENTURES PRINCESS PEACH AND PRINCESS DAISY SMPB BIBLE STORIES MARIO BROTHERS PLUSH ADVENTURES BABY MARIO BROS. PLUSH WALUIUGI IS NUTS! COFFE AND JANICE MARIO PLUSH GALAXY DONKEY KONG PLUSH CHEESY WARIO BROS. MARIO PARTY PLUSH! MARIO KART PLUSH! YOSHI'S ISLAND PLUSH! I will also have series on my upcoming second channel like: MARIO GAMES! TRAMPOLINE CRAZY! TYLER'S STUNTS (just so you know, "tyler" is my friend's name.) LITTLE GIRL TRIES BIG NEW THINGS! (starring my sister!) BEHIND THE SCENES! BLOOPERS! And probably some more, I don't know. I wrote a thick stack of papers planning my channel. A sneak peak of the series "Wario and Waluigi's Wacky Hectic Adventures" Wario Bros' Team: TOAD TOADBOB KOOPA FIRE MARIO FIRE LUIGI HERES A SNEAK PEAK ON SOME OF MY CHARACTER'S PERSONALALITIES: THE FIRE BROS. ARE MARIO AND LUIGI'S COLONES. WALUIGI IS DUMBER THAN WARIO.GOOMBA CAN POSSES PEOPLE.PEACH AND DAISY(PRETTY MUCH ALL GIRLS IN MY VIDEO GAME SERIES)ARE GASSY.WARIO DOSSENT FART.GOOMBA'S THE ONLY MALE TO FART.DIDDY IS DK'S BEST FRIEND.SOMEONE ALWAYS LANDS ON LUIGI. MARIO AND PEACH WILL GET MARRIED IN ONE OF MY VIDEOS.LUIGI AND DAISY WILL GET MARRIED IN ONE OF MY VIDEOS.ROSALINA IS QUIET.WARIO LOVES TAKING WALKS, WHILE WALUIGI IS A LAZY BUMB.DAISY IS A TOMBOY.WARIO ALWAYS TELLS PEOPLE AT LEAST WALUIGI IS DUMBER THAN ME!WALUIGI LOVES DAISY. WARIO LOVES PEACH.TOAD AND TOADBOB ARE TWINS.YELLOW TOAD AND BLUE TOAD ARE TOAD AND TOADBOB'S YOUNGER TWIN BROTHERS.FIRE MARIO,FIRE LUIGI,TOADBOB AND RED YOSHI HAVE FIRE POWER, SO THEY MADE A CLUB CALLED THE FIRE CLUB.BLUE YOSHI HAS A CAT GIRLFRIEND. THAT SURE IS A BIG SNEAK PEAK. I'M JUST EXITED TO MAKE MY ACCOUNT. YOU GUYS ARE THE ONLY PEOPLE I CAN TELL ALL OF THIS TO BECAUSE I'M THE ONLY MARIO FAN IN THE HOUSE. THEY ALL THINK I'M ADDICTED TO MARIO.THEY EITHER DONT UNDERSTAND, DONT CARE OR CANT REMEMBER. THANKS. ALSO PLEASE MAKE A SHOUT OUT AFTER MY CHANNEL COMES OUT. YOU CAN DO IT AT THE END OF THE NEW WARIO AND WALUIGI'S SUPER ADVENTURES. OH, I FORGOT TWO SERIES: THE FIRE CLUB SUPER LUIGI AND TOAD LUIGI'S CONCERTS
I don't know about only having girls farting (that's kinda weird). Wario is the only Mario character actually known for farting (i.e. Super Smash Bros. Brawl), and it's a little odd having him not farting at all, and instead having only female characters fart.
Yeah, it's rough being a Mario fan nowadays, as it's often known as "uncool" or whatever, to like Nintendo. It's all about Xbox to some people, and that really annoys me.
Sorry, but we don't take requests for shoutouts, and if you beg for shout outs, you won't get one. Only channels that we genuinely know and like will get shout outs.
did you get Rosalina -noah
Not yet.
its noah are you brothers.whos older.can your parents type me.what is your FIRST NAME. NOT LAST. DID YOU GET ROSALINA. PUT ROSALINA,DAISY,GRENINJA AND BABY BROS PIKMANS AND LUCAS IN SMASH PLUSH!
The main Plush Bros (1, 2, and 3) are indeed brothers, and PB1's oldest, PB2's second oldest, and PB3 is youngest. Our parents can't type right now (sorry about that). We do not want to reveal our first names. We didn't get Rosalina. She's not at the top of our To Get list (the top is Brawl in the Family books 2 and 3), so we'll get her sometime, not sure when. Greninja, Pikmin and Olimar, Lucas, and Rosalina will be joining the cast, but not Daisy and the Baby Bros.
is this a private chat room for only me to write to you? -noah
I honestly don't know.
hey its me noah. im getting Rosalina and diddy like in a few days. ordering, that is. I think this is private.write you later. it is Friday September 12th.
Welcome to the Noah and MLPB talk portal. To MLPB: I will probably order Rosalina and Diddy Kong sanei plushes next week on Friday. To MLPB: Do you watch Tobuscus or brentalfloss?

To newcomers (tell MLPB a nickname for you so they can answer your questions!):Tell MLPB about a channel on youtube to watch that you made.P.S. I will subscribe when I make a channel!My channel will be called supermarioplushbros or MARIOPlushductions. I like the coler purple. You can read the previous paragraphs I made on this very talk page. It has conversations,questions and answers (by me and the plush bro) and sneak peaks for my channel.P.S. I will change some of them by the time I make my channel. My top 10 favorite Mario characters are MARIO LUIGI PEACH DAISY WARIO DONKEY KONG KOOPA WALUIGI TOAD YOSHI I have a plush of all of them plus more plushes.
Hey again. It is I, Noah. Here is a list of plushes I will hopefully get, but first I must inform you I will get a Sonic and maybe Tails and Shadow from Toys "R" Us. ROSALINA SONIC DIDDY BOWSER JR. TAILS TOADETTE BIRDO BABY MARIO, SHADOW BABY LUIGI AND BABY PEACH BABY WARIO BABY WALUIGI KIRBY LINK ZELDA LARY LUDWIG VON MORTON JR. WENDY O. IGGY LEMMY ROY
                SEE YOU LATER!!!!!!!!

HELLO ONCE AGAIN! MLPB, remember that time I was typing a list of series I had in mind? I forgot to type one I think. I think it was a series (probably not as popular or the worst) called Super Luigi and Toad. it was one of my first ideas. I already acted episode out.
Pikacu Charizord Lucario Greninja Jiggilypuff

I like MarioPlushductions better because it is more unique! Use that name :)
Good luck on the channel!
Its a me, Noah! Did you know Wario bros are Mario bros' cousins? Mario is faster than Sonic? Dr. Ivan Robotnic (aka Dr. Eggman) is faster than Sonic? Bowser's only son is B.J? The Koopalings are adopted? Mario and Luigi ain't atalian? DK's dad is DK jr? DK's dad killed Mario's dad, Jumpman Mario? DK's granddad is Cranky Kong? Mario,Wario,Waluigi and Luigi's last name is Mario? The Mario bros' parents were Pauline and Jumpman? In some games they made Luigi taller than Mario because he usually stands behind him? Mario and Luigi's dad was bad. DK's granddad was bad. Nintendo makes fun of obese fat people like Wario by making him fart in SSBB? Mario and Luigi were born in the Mushroom Kingdom? Ludwig,Wendy and Morton got words added to there names in honer to famous people. Waluigi and Rosalina together is stupid fanfic? some of this came from a youtube channel called game theory. some of it, well its on the web somewhere.
hi mlpb! im starting the talk without you! -noah p.s, I saw Wario's Movie!
hey its noah im gonna add another did you know to my list Mario,luigi,peach and wario where cameo in a Kirby game for wii still waiting, well, your gonna see it sometime soon
MLPB, I AM HOPING AUBRE IS JOINING THIS ROOM. WE NEED CONVERSATION
            WELCOME GUYS START A CONVESATION!!!!!!!!!!!!!!!!!!!!!!!!!!!!!!!!!!!!!!!!!!!!!!!!!!!!!!!!!!!!!!!!!!!!!!!!!!!!!!!!!!!!!!!!!!!!!!!!!!!!!!!!!!!!!!!!!!!!!!!!!!!!!!!!!!!!!!!!!!!!!!!!!!!!!!!!!!!!!!!!!!!!!!!!!!!!!!!

Welcome Aubre! Join this conversation!
dose anyone have plants vs. zombies-noah
peach daisy Rosalina baby peach birdo toadette wendy dixxie kong all of the girl Mario plushes
mlpb, I will use MARIOPlushductions! thanks mlpb -noah
anyone watch brentalfloss tobuscus toby games asapscience ireadcreepypastas prsamuraicast goomzilla combermani wiiriketopray matthew sentoro thatguyinthebasement game explain the game theriost tobymacvevo mandisavevo katyperryvevo steelxawesome foulchicks ??????????????????????????????
bowser will be the enemy in my wario and waluigi series!-noah
got a pig from a claw machine! angry birds names are red-red have white-matilda have yellow-chuck have blue-jay joe jake have red-Terence orange-bubbles have pink-stella I put a have this plush on the one I have I also have two pigs and space bomb Luigi is Mario's slightly younger twin!-noah
I just got a youtube account!!! I subscribed to mlpb mlpb2 steelxawesome goomzilla superweegeegaming and randomvidpro1!!!!!!!!!-noah!!!!!!!!!!!!!!!!!!!!!!!!!!!!!!!!!!!!!!!!!!!!!!!!!!!!!!!!!!!!!!!!!!!!!!!!!!!!!!!!!!!!!!!!!!!!!!!!!!!!!!!!!!!!!!!!!!!!!!!!!!!!!!!!!!!!!!!!!!!!!!!!!!!!!!!!!!!!!!!!!!!!!!!!!!!!!!!!!!!!!
i made a youtube video!!!!!!!!!!!!! I feel bad because I cant tupe the description or who made it. its called Welcome to MARIOPlushductions. watch and subscribe!!!!!!!!!
sup mlpb its a me, noah! watch MARIO Plushductions! videos and videos coming soon and yes i have a trampoline:
welcometo mario plushductions
mario bros. trampoline trouble  
double date  and kiddnapping
super luigi and toag episode1
donkey kong's super  adventures episode 1
new rosalina plush
new sonic plush
and so much more, but i have to get off in a minute.
or if you want new characters for super smash bros plush you can vote on
dixie kong
commander video 
tails
young link
chorus men
jeff
lip
roll
chase mccain
amy
princess from magical pop'n
wonder green
bandanna dee
dr mario
classic pit
paula
hero of alefgard
penny
protoman
slippy
paper mario
toad and toadette
mickey mouse
pokemon trainer
zelda
mr game and watch
rob
fossil fighter
alice
villager
rosalina
ice climber
chibi-robo
lucina
robin
snake
lucas
wii fit trainer
little mac
fighter
urban champions
ms pacman
bomber man
professor layton
aiai
django
hero and slime
female musketeer hero
hero of zenethia
fariy of rock
brittany
louie
knuckles
sukapon
hero and heroine
tempo
lark
captain rainbow
shulk
andy
ken
ben 10
chun li
m. bison
simon belmont
mina
geno
sora
bayonetta
maxwell
marth
palutena
mii
leon
chris
jill
cloud
viewtiful joe
travis touchdown
nightmare
cassandra alexandra
captain n
pokemon trainer serena
eliwood
chrom
captain falcon
kasumi
look im sorry i just want most of my perdictions to be in super smash bros plush was that so worng
It's not wrong to ask us for one or two plushes, but when you start begging for 30 or so, it gets ridiculous, especially considering that most of your requests are completely impossible.
how about this
super smash bros plush new characters
fossil fighter
hero and heroine
sukapon
lark
alice
jeff
paula
classic pit
fighter
louie
brittany
chorus men
chase mccain
bandanna dee
dixie kong
super smash bros plush thrid party characters
tails
knuckles
roll
hero of alefgard
professor layton
bomber man
so just do one or two characters at a time you can start by puting tails in super smash bros plush
i know my characters are impossible but will figure it out
Just... no. They are completely impossible, and there are not enough episodes remaining to add 2 at a time. We're not planning to add any of these really.
will just add one at a time maybe you can do a season 2 of super smash bros plush
tell me what characters do you plan to use in the last episodes of super smash bros plush
A season 2 is a HUGE commitment, and honestly, we don't even like filming SSBP that much. We prefer to film Super Adventures and shorts. We definitely plan to include Toad, Lucas, Samus, and Fox. Some possible characters are Zelda, Rosalina, and once they're released, Amiibos. 
so toad lucas samus and fox zelda and rosalina are the last plushles for super smash bros plush
We're not sure about getting all of them, but if we do, they will probably be the last.
hey i have a poll on google+ saying what mother character should be in super smash bros plush
two vote for ness
one vote for kumatora
one vote for jeff
zero votes for paula
zero votes for lucas
this poll is for you guys
Listen, no matter WHAT your poll says, we can't add those characters.
so what did you think of my intro video for super smash bros plush
just trying to add alot of cool characters to put in super smash bros plush
hey mlpb its noah! sorry I haven't written in so long.
Hi Noah! How's your channel gong?
hey mlpb you should do a total plush island 
im a huge fan of super smash bros plush why not do a season 2 and season 3 of super smash bros plush
We actually never liked Total Drama Island. So there's not really a reason to make a plush interpretation of it.
Making two more seasons of SSBP is a HUGE commitment, and we're just not ready to do that. We don't actually like filming Smash Plush as much as other videos, so we're probably going to stop it after one. Marioluigiplushbros (talk) 13:39, November 3, 2014 (UTC)
you guys hate everything
Sorry if it seems that way, but we can't do everything that we're requested to do. It's HUGE to do approximately 20 more episodes, and we're just not willing to do it. -  Marioluigiplushbros (talk) 01:11, November 4, 2014 (UTC)
ITS DOING FINE! PLEASE SUBSCIBE AND WATCH IT!
We have been watching your videos, keep up the good work! - Marioluigiplushbros (talk) 23:46, November 8, 2014 (UTC)
your talking about me
so what did you guys think about my super smash bros 3ds the movie stage pattern
so what did you guys think about my super smash bros wii u the movie stage pattern
COME ON PLUSH BROS, SUBSCRIBE!
HAVE YOU SEEN MY VETERANS DAY VIDEO? ITS ABOUT THE super smash bros veterans!
We subscribed, it's just that we keep our subscriptions private (they don't show on Youtube, but it counts in your Subscriber number)
thanks a lot you helped!
Hey plush bros! its Noah! if you make another q and a video, feature some of my questions! okay, is pb4 related to yoy guys? if he is, how?
Plush Bro #4 is a friend of ours.
Huh! I was thinking he was a cousin or something! Does he ever spend the night with you guys to make videos? Does he live close to you? Great Thanksgiving video! Who played Grandma? Do you watch SuperMarioLogan? I know you've subbed. Whenever you can, like or comment on my vids! Did you get Rosalina, the Brawl in the family books, or SSB43DS yet? What kind of sports do like? -Noah
By the way, who is the other guy? -Noah
Check out my playlists! And also, look at the channels ive subscribed to and find....... MARIO Plushductions2! So far it has no videos so if you type it in, you wont find it. I will film it on my grandmothers phone. I film my channel on my dads. Subscribe to my 2nd channel! sorry for not making videos in a long time. I might make a black Friday video for peach and daisy. my sister played that one Barbie in Wario: Musscular or Fat?! my friend tyler sometimes plays waluigi. I also copied your voice for wario. I liked it other than it dosent really sound like him in the game.-noah
never forget who I am and think of me as plush bro 5 (or if suppurbmariobros is still pb5, I would be 6)
Your channel is doing quite well! I've seen your second channel, it'd be great if you uploaded videos to it. SupperbMarioBros is not part of MLPB anymore, (he's not our friend anymore), but the new Plush Bro #5 is my friend who played the Hamburger from Wario's Hamburger Chase and Wario's Hamburger Chase 2. So you can still be Plush Bro #6, :)
thanks you guys are awesome! what kind of sports do you like? oh, anyway, my other channel will probably be deleted because my parents didn't approve it. it is on my grandma's phone. which plush bro has been typing me? does your parents ever help you? do you have other brothers or sisters? ssb43ds came out! and ssb4wiiu too! for Christmas, I want diddy, Rosalina, baby Mario+luigi, and ssb43ds.also, I really wanna make a profile pic and banner, but I don't know how. could you please at least make a banner? please write in my comments! nobody has yet.-noah
Thanks for being a great fan Noah!! We mostly like baseball. Why does it matter that you film your second channel videos on your Grandma's phone? Why don't you just use your usual camera, does it make a difference which camera you use?
Usually Plush Bro #2 (me) responds to Wiki comments. Our parents don't help us with our videos, but occasionally they come up with ideas (Easter Special 2014 and Thanksgiving Special 2014 were both my mom's idea). There's only three kids in our family (Plush Bros. #1, #2, and #3). We have Smash 3DS and love it, and we will be getting Smash Wii U for Christmas. As for your idea of us making an icon or banner for you, we stopped making those a couple of months ago, but we'll make an exception for you, and make an icon! :) (banners are very hard to make) What exactly do you want on it? (text, characters, colors, etc.)
Also, do you want to hear a teaser for our Christmas Special? We're working on a parody of "How the Grinch Stole Christmas"! I hope you look forward to it!
your a good friend! I don't want a hint for the next special. please answer some of my questions I asked other times.
thank you for letting me be plush bro 6! it really sucks that we cant meet each other. does paulatena give pit hints in ssb43ds? pit is a fan of Mario. do you watch the game theriosts or game explain?-noah! ps you are some awesome people! I also might get a sonic plush for Christmas! are you guys Christians or/and go to church?
sorry! also, are you gonna get a pit for smash plush?-noah
OH! I almost forgot. Thanks for offering a banner! Could you make a purle background, MARIO, Luigi, koopa, peach,daisy,wario,waluigi,dk?!thanks, once I can find out stuff, I will change my banner. you are some of the best people I know! -noah!
I remembered somethin'! I will make a lot of parodys of tv shows once my mom gets a new phone around Christmas. I would probably be a better video maker with better stuff. im also gonna make videos about the awesomest gretest pictures ive drawn. im 10 years old, so are any of you plush bros around my age?-noah
im stupid. I forgot something I wanted to tell you. on mlpb2, wario sings nom nom nom nom nom nom nom, that's not what the song was called. it was called om nom nom nom. that was a crazy frog song right? the dude who makes it must have deleted the vid. I coudnt find it. I might make music videos like you do on mlpb2. like crazy frog songs and more! one more thing, the dude who made crazy frog mage kim like WARIO! WOW!-NOAH,PLUSH BRO #6!
AGAIN!, why does waluigi have bulborb as a pet? im hyped for the pet show vid! what grade are you guys in, elementary or middle junior high? also, do you have any pets?-noah
READ EVERYTHING I WROTE!
Edit
WHEN does Yoshi's island thwomp trouble come out?-noah
Thanks for all the kind words. Noah! Palutena does not give hints in Smash 3DS, unfortunately. We mostly watch GameXplain, and we don't like GameTheory that much. We are Christian, but don't go to church often. We can't get a Pit plush for SSBP since no company has ever made an official one.
Actually, we offered an icon (sometimes called a profile pic or logo). Sorry, but banners are pretty difficult to make. What exactly do you want on your icon? The information from the banner doesn't really apply here, since a banner is much bigger and can fit more characters.
Cool!! Parodies are always funny :) Oh, you're a good artist? I didn't know, that's great! We are also good artists. I've actually never even heard of Crazy Frog Songs, Nom Nom Nom Nom Nom Nom Nom came from this video: https://www.youtube.com/watch?v=SMWi7CLoZ2Q I know it's the official video since the song is made by Parry Gripp, and this is his channel.
Why Waluigi has a Bulborb for a pet will be explained in the Pet Show once it comes out. Speaking of its release, it has been delayed to 2015. But I hope you look forward to it anyway :)
Plush Bros. #2 and #3 are in Middle School, and Plush Bro #1 is in high school, and no, we (sadly) don't have any pets. Our parents are allergic to most animals that have fur, and we don't want a lizard, fish, or turtle that much.
We don't have any plans to release Yoshi's Island: Thwomp Trouble yet, but it's not canceled, despite what you might think. It may be a short series, (5 episodes or so)
OK, YOU CAN MAKE ME AN ICON? IF YOU CAN, I'D LIKE A MARIO AND LUIGI, WITH PLUSHDUCTIONS ON IT. THANKS-NOAH
Okay, I'll work on it.
Okay Noah! We finished the icon! :D Just click download, then add it on YouTube.
http://marioluigiplushbros.deviantart.com/art/Mario-Plushductions-Icon-499652550
your awesome! thanks! i votedthe pole about grandma! im just a little bit younger than pb3, cause im in 5th grade.-noah
You're welcome! Did you add the icon to your channel yet?
how do you download the picture?-noah
It might be different on a phone, but here's how you do it on a computer.
1) Download it from Deviantart. Right next to the picture, under the button that says "Import to Deviantart MURO", there is a button that says download. Click that.
2) A new window should pop-up, with just the picture.
3) Right-mouse click, and press "Save Image As"
4) Save it to any folder, preferably the Desktop. Here you can also name the file.
5) Go to your Google+ page. You can get here from your channel if you want.
6) Hover over your icon, which is a person-like figure on a blue background.
7) A picture of a camera should appear. Click that.
8) Click "Select a photo from your computer"
9) Select your image.
10) It should take 2 or 3 seconds to load.
11) Adjust the crop on the image so that the whole icon is selected.
12) Click "select as profile photo"
13)  When it says "Post about your new photo", add a comment about it if you want to, and press share.
14) Bam! Your icon has been changed!
If you have any further questions, you can find a wealth of information with a simple Google search.
thank you! that was a big help!-noah
hello! can you make me a banner with Mario luigi peach daisy wario waiuigi dk and diddy with Mario plushductions please? noah

hey who ever im talking too .sorry im a bit confused about this whole conversation thing .its jason here .i have one question do you guys like school ? i sure dont .have you watched any horror movies ? whats your favorite movie in general ? bye guys .
Hi Jason! Well, you're mainly talking to us, the Plush Bros, but sometimes other plush fans join in on the conversation. School can be a huge pain sometimes, because there's so much work, and a lot of our teachers are pretty obnoxious. But, we do get to see our friends there, so that's a plus. We really don't watch too many horror movies... we're just not all that interested in the horror genre. Our favorite movie is probably Dumb and Dumber (it's hilarious).
hello, its noah. finnaly another person! mlpb, whenever you can could you make a banner for me? on it, I would like Mario luigi peach daisy wario waluigi baby bros. thanks, I understand if you cant. ive made 4 new vids, so check it out! also, check mygoogle plus site and please add it to your circles.
Hi Noah! Glad you're back uploading again! Your video quality is definitely improving, keep it up! One suggestion: try to make your videos a little bit longer. You don't have to make them that long, but two minutes or so would be nice. Here's your banner: http://marioluigiplushbros.deviantart.com/art/Mario-Plushductions-Banner-505133622
thanks for the banner! I cant make videos over 49 seconds cause my dad's phone is old. I do not know why, if I had a better camera, id do great! ALSO CHECK OUT my google plus account and add me to your circles. -noah ps for Christmas,i got Rosalina baby Mario luigi peach sonic diddy kong tails ssb3ds!
Oh, that explains it. We also got a Rosalina plush for Christmas! :D
PS, we're working on a sequel to Sonic the Snowman. It's a parody of "Frosty's Winter Wonderland", just to give you a hint. We're almost done filming/editing it.
hey its noah what plushes have you gotten recently?
We haven't gotten any recently, unfortunately. We're working on our amiibo collection right now instead of plushes :)
no, I mean like, for Christmas! on your mlpb website, you said something about iggy's torture chamber. and also, amiibos cost a lot. -noah
Amiibos should act as assist trophies in ssbp! when you get the koopalings, put them in there, too!-noah
I don't know how we would incorporate them as Assist Trophies (since it is a video, not a game). Also, we don't plan to get many more Koopalings. Also, we've got TWO videos coming soon! Keep a look out for those :D
Sorry Noah, but I don't think articles about your channel belong on the MLPB Wiki. Perhaps you could create a Wiki of your own! That'd be cool! :D
why would I make a wiki if my channel has 12 subs?
Well, a Wiki could help engage your fans. Wikis are great at promoting channels! :D
I may not make videos in a while. But when I return I may have better quality! Yay! Please consider making video thumbnails for me if you have time. Also, could you ask for plush bro 4 and steelxawesome to subscribe to me. you are great role models for plush tubing. please check out my google plus!-noah
Cool, did you get a new camera? We'll make a couple of thumbnails for you sometime, and we'll post the links here once we do. Thanks for all the kind words! - MLPB
Here's 2: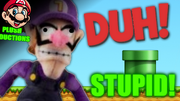 and here's the transparent version of the Mario Plushductions logo I made, in case you want to use it: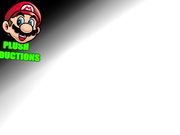 thanks they are awesome
when I make more videos , well the whole thing is so complicated. Also I have a cat Mario and luigi plush!
Hello this is MARIO Plushductions. I wanted to tell you my Friend code. It is 2938 7962 5206. It will show a Mii wearing purple. It will have Noah saying I'm a beast.
Ummmmm...are you there?
Hey There MLPB Were The Super Warino Bros! You Might Of Heard Of Us Before.
We Really Like Your Videos' There Inspiring.
And We Have Way To Many Plushes To Name! Lets Just Say We Have About 80.
Good Luck With Your Awesome Videos! 
Wario's Addiction Is Our Favorite By The Way.
HELLO GUYS! IF THE SUPER WARINO BROS ARE WATCHING, YOU HAVE A GREAT CHANNEL! I AM A PLUSH BRO FAN THAT ALSO HAS A CHANNEL. ITS CALLED MARIO PLUSHDUCTIONS.!!!!
hey, this mario plushductions! i have a great idea for your last episode of smash bros plush! mario and luigi's  team meet megamans team. they are all outside of the villans caSTLE. mario meets master hand. master hand tells  him about how all the master hands controll them. then, the villans come out and a maJOR war breaks out. master hand  exploads! cr5azy hand is happy... meanwhile, all plushes good and bad, wake up and seem to get along... then they start acting strange. crazy hand is controlling them! master hand magically revives himself. crazy hand sand master hand both get along! please make this into a video!
Woah, I haven't been here for a while. Sorry for not responding, guys, but we're back! A lot was going on at the Wiki (with new moderators, and new backgrounds, and formatting, and such). So much was going on that I forgot about the Community Portal!! I'll answer a few questions that you had asked, and respond to a few general comments.
Sorry MARIO Plushductions, but our 3DS Friend Code has my name on it, making it too personal, sorry 'bout that. Recently though, we created a "Real MLPB" account on our Wii U, so if you get a Wii U, you can send us a friend request there. We also have a Smash Bros. MLPB Fan Tourney coming tomorrow! If it works out, we'll probably do it again.
Hey Super Warino Bros! Your name does sound familiar, I probably saw one of your videos at one point. Thanks for complimenting our channel. Yep, we have even more than that! It's insane how quickly your plushie collection can grow!
Mario Plushductions, Interesting concept for SSBP! We don't want to spoil anything for that series, but we may use bits and pieces of your idea in the future, mixing it in with the SSBP story arc that we had already made. Once again, sorry for not updating here recently! - Marioluigiplushbros (talk) 16:30, August 4, 2015 (UTC)

Hey this is MARIO Plushductions! On one of your MLPB Marathon videos, could you put a happy birthday shout out to me at the end? My birthday is August 14. Thanks if u can make it possible!
Sorry MARIO Plushductions, but we're not able to do that :( Plenty of people ask for birthday wishes at the end of our videos, but we have to say no everytime. You see, we have 19.000+ subscribers. If we let just ONE of them get a birthday shoutout, many other people will want the same. So, after doing the math, with our current number of subscribers, approximately 53 total of their birthdays will be on the same day. That would mean more than 53 birthday wishes per video, as we don't upload daily. I know this is an absolute extreme, but giving a birthday shoutout every video is not something I'd want to do :)  Also, the marathon starts on the 16th, so it's unlikely we'll be uploading anything on August 14th. While we'd LOVE to wish you happy birthday, doing it in a video sadly will not happen.
So have an awesome birthday! You're one of our most dedicated fans, and you have serious potential when it comes to plush videos. If you keep at it, you could end up being a BIG plushtuber!! - Marioluigiplushbros (talk) 01:01, August 6, 2015 (UTC)
Hey...
I just remembered this, and how annoying I used to be. I am so embarassed of everything I typed in here previously. Thank you guys for being so engaged with me back in 2014. I was 10 years old, then, and you guys were so nice. I was such a big fan of your YouTube videos that I typed some weird stalker stuff, and I appologize. Anyway, you helped me so much with my channel, "MARIO PLUSHDUCTIONS". It was so cool that my favorite YouTubers made my banner and icon. Everything that I did on this website and my YouTube channel was so cringy, and I just wanted to let you guys know that that does not reflect who I am today. Okay, thanks for reading this, if you are.
Haha, don't worry about it! By the way, there's nothing cringy about making plush videos! Don't be ashamed of being a PlushTuber. Marioluigiplushbros (talk) 17:40, March 3, 2018 (UTC)